SMS BUS SCHEDULES
When is my bus coming?
Text your bus stop code to 511785
The arrival times of the next buses will be sent to you right away. We recommend that you use this service a little before your departure since the system provides you with real-time forecasts over the next 15 minutes. If you board at the start of the line, it is possible that your bus will be picked up by the system only a few minutes before it arrives.
Bus stop codes are 5-digit numbers appearing on the bus stop sign. You can also find them by checking the online schedule for your bus route.
For all buses arriving at your stop: Simply text the bus stop code.
For example: 41937
For a specific bus route arriving at your stop: Text the bus stop code followed by the bus route number and direction (with or without a space in between).
For example: 4193765S or 41937 65S 
Standard text message charges apply based on your mobile phone plan.
TRIP PLANNER
Select your route and stop to see the arrival times of the next buses in real time. Or search for an address to display your itinerary, including trips by bus, shared taxi, metro and train in the Greater Montreal Area.
Our tool lets you find the information you need quickly. Want to see more options?
STL SYNCHRO MOBILE APP
Coming soon: a new app version with more options!
STL Synchro and STL Synchro+ mobile apps—which are now obsolete—will soon be replaced by a brand new STL Synchro app. Look forward to download it on your iOS or Android device.
DIGITAL DISPLAY
At bus stops
The STL's busier bus stops are equipped with digital displays with real-time bus schedule information so you always know when the next buses are arriving.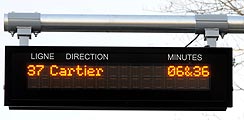 On buses
STL buses are equipped with digital displays that indicate the next stop and the estimated time of arrival at the terminus station.