Sustainable mobility
26 April 2021
Yes to making biking a commuting option!
The reasons to bike can stretch for miles: it's fast, economical, and healthy. And when you are able to combine it with riding the bus, it becomes as practical as can be!
Every year as of May 1, we outfit the front of all of our buses with bike racks. When you need to travel far or when it rains, you can simply mount your bike on the rack and carry on with your commute.
Watch How to mount your bike on a bus rack
On our trip planner, you can use the "Show more options" feature to view the Laval bike path network superimposed over your itinerary. This way, you'll be able to easily see your options for travelling part of your trip by bike. It may, for instance, save you having to transfer buses, make areas difficult to serve by bus more accessible, or just add more flexibility to your commutes.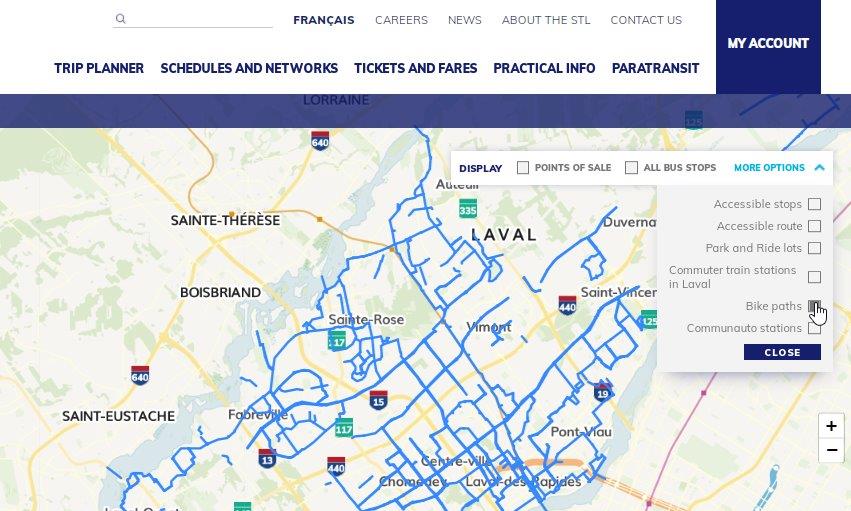 Laval's bike path network is nearly 270 km long, so there's really no good reason for leaving your bike at home. Available until November 14, Laval's bike network even includes a 32 km stretch along the Route Verte, North America's longest network of cycling trails.
---
BIXI in Laval
Did you know Laval's BIXI city bike service is already up and running for the season? It opened April 9, and it includes 40 electric-assisted bikes and 15 standard bikes allocated over 6 stations accessible 24-7.
Laval city hall

Montmorency bus terminal

Cartier bus terminal

Saint-Claude park

Legrand avenue, corner Cartier west

Robin boulevard, corner 15e Rue
Remember that helmets are required for electric-assisted bikes.
Check out the full map of BIXI stations