July 1 - SATURDAY schedule applies - Customer contact center 8 a.m. to 5 p.m. - STLaval.ca - Happy Canada Day!
News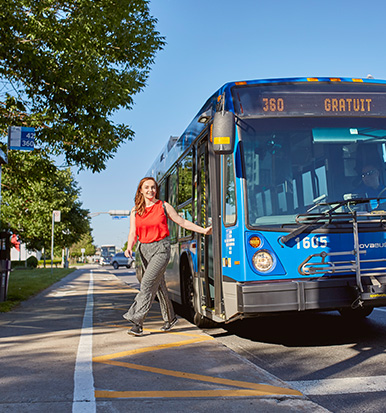 Ticket and fares
17 June 2022
This way for outings!
XTRA summer pass
The XTRA pass allows holders of an OPUS card with photo ID to travel throughout July and August for a reduced fare of just $71 (ages 12 to 17). This offer is exclusive to the STL bus network and on sale until July 19.
Travel downtown for free with the 360 shuttle
Travel around downtown Laval with the free 360 shuttle, operating seven days a week all summer long. Departures every 20 minutes from Montmorency terminus (platform 8). Refer to the map and schedule.
Did you say "Unlimited"?
For evenings and weekends packed full of unforgettable activities, you should opt for the Unlimited Evening fare for $5.75, or the Unlimited Weekend fare for $14.50. Go enjoy hikes, canoe rides and evenings on the patio!
 
Here are some valid requests to activate departure and arrival location suggestions and get your itinirary.
Address
900 St-Martin Blvd
900 st-martin
3225 A440
3225 a440
Intersection
Industriel bldv and Michelin st
industriel and michelin
industriel/michelin
Location
Centre Laval
centre lav
Metro
Métro Cartier
métro car
Station
Gare Centrale
gare
Stop number
41649
Postal Code
H7S 1Y9
h7s1y9