Ticket and fares
29 April 2021
Simplified pricing system and new transit fares
The Autorité régionale de transport métropolitain (ARTM) announced new transit zones for the Greater Montreal, effective as of July 1st.
New fares were also announced. Let us explain what it means for Laval.
---
What's new once Phase One of the fare reform kicks in July 1?
Children ages 11 and under travel free (subject to certain conditions)

40% off monthly passes and annual memberships for all full-time students 18 and over

On average, all fares will be indexed by 2%, except for the regular one-way fare, which will remain unchanged at $3.50

New fares will be available as of June 20 (valid as of July 1st).
---
Zone changes coming
Under the ARTM's new plan, there will only be four transit zones, down from eight. Instead of Zones 1 through 8, the Greater Montreal Area will switch to Zones A, B, C and D.
Here is a map of the new transit zones: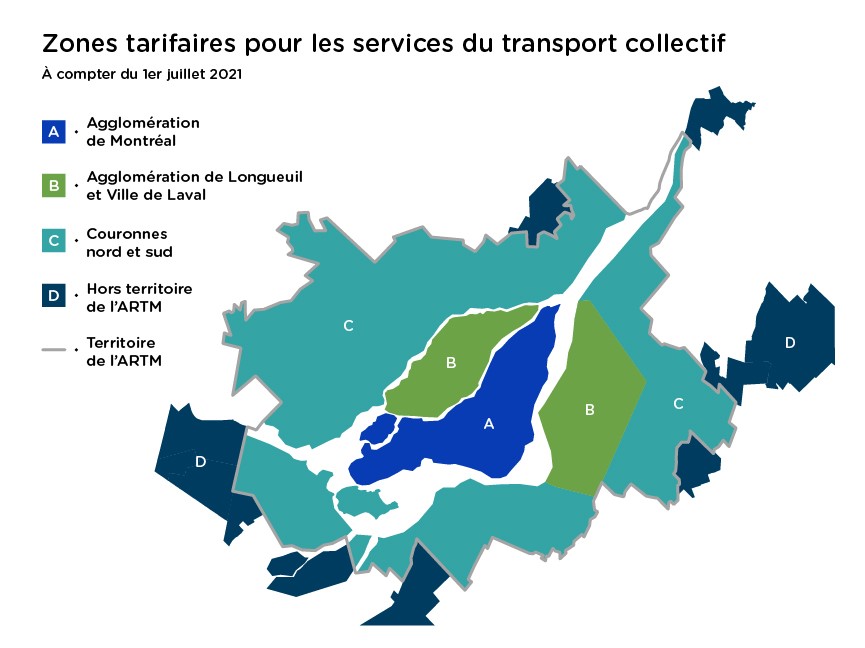 Laval, now in Zone 3, will move to Zone B on July 1. The changes specifically targeting this zone will come into effect only in July 2022. Fares currently valid in Zone 3 (e.g. the TRAM Zone 3 monthly pass) will continue to apply and be sold during the transition period.
---
Ultimately, the reform will offer two public transit user options:
1. All modes (all-purpose) fares giving commuters access to the bus, metro, train, REM and paratransit services;
2. all-bus fares for commuters looking to travel strictly by bus in any and all zones (STL, STM, RTL and exo).
ABC and ABCD all-purpose fares (called "All modes ABC" or "All modes ABCD" fares) will be available as of June 20 at metropolitan ticket offices (some fares will also be available at fare vending machines). These news fares will only be available on Occasionnelle cards (not on OPUS cards).
An all-purpose fare will allow you to transit from A, B, C and D zones, regardless of the transportation mode you use (metro, bus, train). For example, to take the bus in Laval and then the metro, you will not have to buy two different transit fares, but only one "All modes" fare. This kind of fare will be useful when you have to transit between different territories or switch to another transportation mode.
---
The STL will be here to assist you and keep you informed as changes arise. Our Tickets and fares now reflects the new changes. Keep in mind that between now and July 2022, only a few new features will affect the Laval territory.
Want to learn more about the new fare reform?
Visit the ARTM online (French only)
---
Did you know public transit authorities, like the STL, STM, RTL and exo, do not decide bus, train or metro fare prices for the Greater Montreal Area?
All decisions regarding public transit fares in the Greater Montreal Area rest with the ARTM regional transit authority. A few years ago, the ARTM undertook the process of reforming fares with a view toward simplifying the pricing of not only regular public transit, but also  paratransit services.
Following an extensive public consultation exercise orchestrated by the  ARTM, the first phase of the new pricing plan is set to come into effect July 1, 2021.